Cody's Show Cattle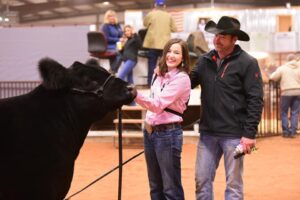 With Mike's early passing and the closing of the meat shop, 3rd generation Billy Cody continues a family tradition. Billy moved to Texas and rose to the top of the show cattle business. For 30 years, Bill has raised some of the highest-quality show cattle in the US. Bill's team breeds, sources, fits, and brokers show steers that compete at the top of their field.
His daughters, Cailey and Taylor, grew up in the business, showed in 4H, and won their share of top prizes. These young ladies are part of the 4th generation of Cody to grow up and carry on the cattle lifestyle. 
For over 30+ years, Billy's business, Cody's Show Cattle, has won Grand Champion from Denver to Dallas, Houston to Phoenix, San Antonio to Kansas City. With high stakes and big prize money, he's built a reputation as the top in his field.
When you are interested in only the best corn-fed beef, Billy is the go-to for half or full-beef purchases. These animals have bloodlines that were perfected over generations. Breeding is often done with artificial insemination or embryo transfers because Cody's Show Cattle seeks perfection. The Grand Champion from a show like the Houston Livestock Show and Rodeo can go for $1m, which may be out of your budget, but that's the level at which Cody's Show Cattle competes.  To order beef from Bill, be patient. It's worth the wait!